All the news
Double for Thomas Joly, first for Jennifer Lambert

Frenchmen Thomas Joly and Jennifer Lambert won the Transju' Marathon Classic 50 km, the highlight of the first day of the 44th edition of La Transju'. This Sunday, they will be several thousand skating enthusiasts on the slopes. The fight for victory between the best French skaters will be particularly intense and spectacular with the participation of Maurice Manificat.
To remember:
. Victories of Thomas Joly and Jennifer Lambert on the Transju' Marathon Classic 50 km
. Cross-country skiing enthusiasts who came above all to enjoy an exceptional setting
. Maurice Manificat is the favorite of the Transjurassienne
. Emilien Louvrier and Céline Chopard Lallier defending their title
. Famous athletes on the tracks of La Transjurassienne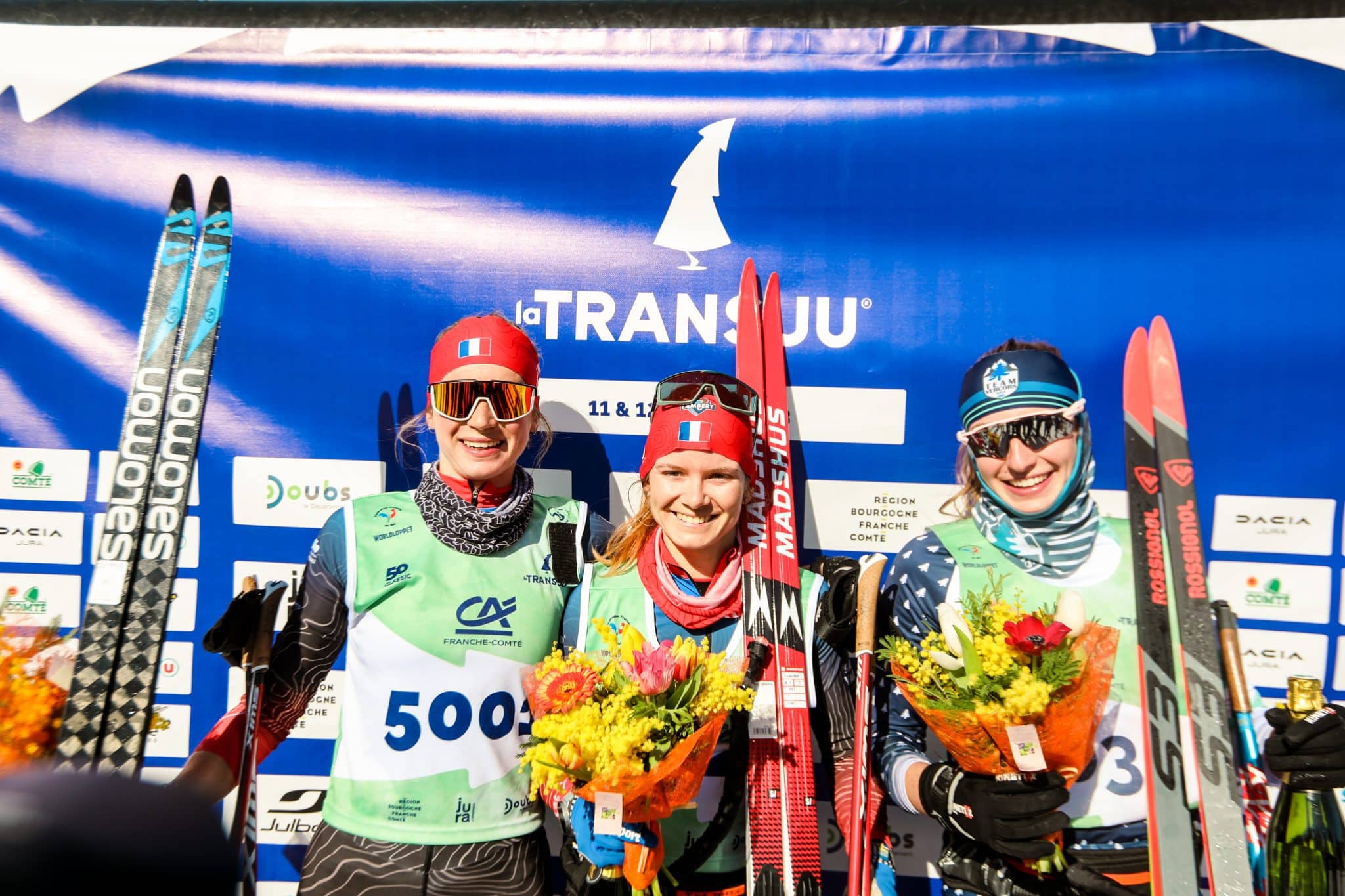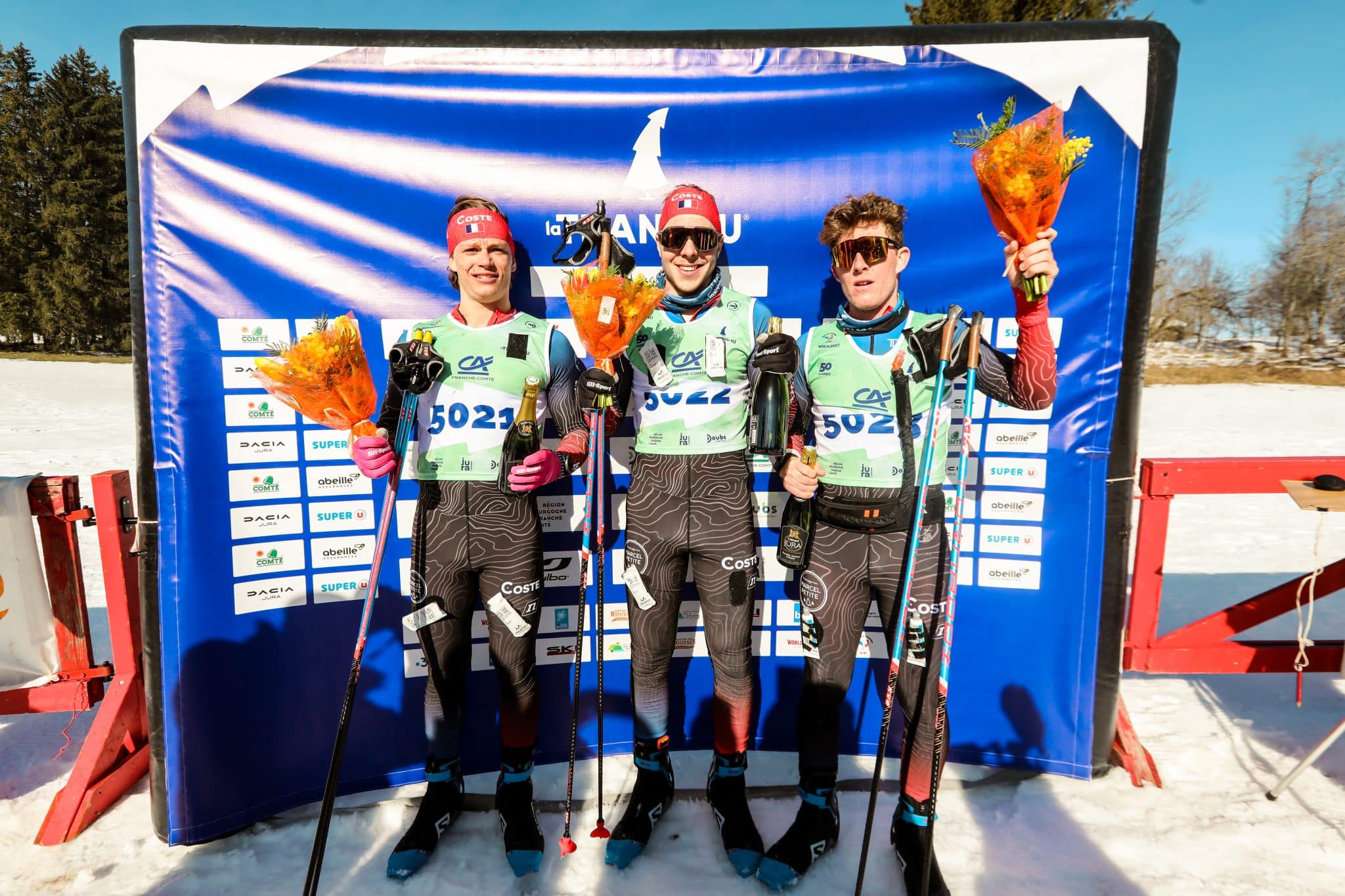 With his fist raised as he crossed the finish line, Thomas Joly (Team Nordic Expérience), winner of last year's sprint, was able to savor his final stretch. After having escaped for several kilometers with his teammate Jérémy Royer (already 4th last year), he was able to make the difference 400 meters from the finish line to take a second straight victory at the end of a particularly demanding course with its 855 meters of positive altitude difference over a distance of about 50 km. I am very happy," he said. This second victory was finally harder to come by. This course is really difficult. Jérem was really in shape. We started really strong. He was pushing hard the whole way. He tried to take me out in La Sambine. I didn't move. As a result, he didn't believe in it as much as I did. That was a key moment. Then, in each small bump, I hardened a little so that he wouldn't go ahead. I had confidence in myself at the end. Today, I was not the strongest all along the race. But I knew when I was going to hurt and when he was going to hurt. I won a little bit with my head."
Winning the Transju' is never just another victory. The Transju' is a big goal of the season," confirms the winner. It's the race I want to win in France. There are also a lot of people waiting for me and I want to be there for my sponsors and those who support me. I have done the Transju' Jeunes every time I could and I always had a great time on this race." Thomas Joly will now head back to Scandinavia with the Vasaloppet, the mythical Swedish race, as his big goal in two weeks. Third and fourth, Matis Leray and Paul Combey complete the archi domination of Team Nordic Experience. Winner in 2018 and 2019, Antoine Auger takes the sixth place.
A first for Jennifer Lambert:
"You're too strong!" Laurie Flochon Joly's first words to her teammate Jennifer Lambert, her Team Nordic Experience teammate, testify to the domination of the winner of the women's event, already on the podium last year (3rd). I'm very happy and very moved," said Jennifer Lambert, her voice trembling and her eyes shining. I needed this to give me confidence for the rest of the season. I felt that in the climbs I had a bit of an advantage. I knew that if I wanted to win, I had to build my race as I went along because I am not a finisher. We did a section together with Laurie and Solène (Faivre, 4th in the end, overtaken by Hanna Fine). With my teammate, we forced things a little to leave together. Once we had done that, I told myself that I had to think about myself to get the victory. The Transju' is THE mythical French race. Participating in it is already great, so winning it! It's also the first time I've won a race like this in mass-start. Being in front, I had a great time. She also checked off the Vasaloppet in her agenda.
Cross-country skiing enthusiasts:
If the first runners reached the finish line in just over two hours, the day stretched out for many runners in the 400-strong field on this Transju' Marathon Classic 50 km. Without it disturbing them for a second. I came to make a lot of friends," says Yasuhiro Nakazawa - 71 years old, from... Tokyo. I had already come three years ago but the race had been cancelled because of the lack of snow. I went back to Japan sad. I had to come back. Gary Neptune and Eva Gottschall came from Colorado. We have already participated in many Worldloppet races like the Vasaloppet," says Eva. We came to Europe for three weeks to visit family in Germany and it was obvious for us to take advantage of this to participate in La Transju'. We usually train at 3,000 m, it's a change for us! Our only objective is to have fun. Seeing the smiles on the line, the objective was largely achieved.
Maurice Manificat favorite for La Transjurassienne
This Sunday, it's time for La Transjurassienne, the biggest race in France with nearly 2,500 runners at the start, on a course reduced to 50 km (instead of 70), due to insufficient snow conditions to slide to Mouthe (Doubs), the usual place of the finish. Even if he waited until the last minute to register, Maurice Manificat will be at the start this Sunday at the Combe du Lac de Lamoura, the emblematic place of the Transju' starts. With his XXL prize list, he will be the favorite. World vice-champion in the 15 km free race in 2015, seven times bronze medallist in relays at the Olympic Games (4 times) and at the World Championships (3 times), the 36 year old Frenchman will be eagerly awaited. After two months disrupted by an infectious bronchitis and sinusitis, Manificat, currently in training at the Centre National de Ski Nordique et de Moyenne Montagne (CNSNMM) in Prémanon, has chosen to compete in the Transju' in preparation for the World Championships in Planica at the end of the month, where he will compete in the 15 km individual skate. "The dark period is behind, make way for the light," he writes on his Instagram feed. Depending on the intensity he decides to commit to the event (intensity session in his preparation or victory goal), La Transjurassienne is a superb opportunity to take in as much as possible.
However, he will have to face a strong adversity. Listed on the Worldloppet calendar, the reference circuit for long distance races, the Transjurassienne attracts the best specialists. Émilien Louvrier will defend his title. I'm going to approach the race in all humility," explains Émilien Louvrier, the title holder. At each edition, 10 or 15 guys can win and the races are never the same from one year to the next. Many factors can come into play, such as the form of the day of course, but also the skis, the sliding, the food, etc. Training has been good but we haven't had many long distance races."
He will face a very big field with for example Gérard Agnellet (Haute-Savoie Nordic Team), third last year and second in 2019, Simon Perruche (Team Vercors Isère).
In the women's race, Céline Chopard Lallier (Team Nordic Expérience) will also aim for the double but will have to dominate Émilie Bulle (Team Vercors Isère), third last year, or Océane Bépoix (Féclaz Formation Longue Distance), winner of the Marathon du Forez a few days ago and already fifth in 2022
Champions from all over the world:
The Transjurassienne does not only attract pure cross-country skiers. Biathletes Simon Desthieux (Olympic champion in the mixed relay in Pyeongchang in 2018 and world champion in the men's relay in 2020), Anais Bescond (Olympic champion in the mixed relay in 2018) and Célia Aymonier (bronze medallist with the women's relay at the 2017 World Championships) will be at the start.
Other seasoned athletes will also be on skis, such as traileurs Xavier Thévenard (three-time winner of the Ultra Trail du Mont-Blanc) and Camille Bryuas, cyclists Julie Bresset (Olympic mountain bike champion in 2012) and Jérome Coppel (French time trial champion), Marine Leleu, an endurance sports specialist, and skippers Aurélien Ducroz and Ian Lipinski.
---
Rankings:
Transju' Marathon Classic 50 km
MEN
1. Thomas Joly (Team Nordic Expérience), 2h01'25''.
2. Jérémy Royer (Team Nordic Expérience), at 5''.
3. Matis Leray (Team Nordic Expérience), 2'41
WOMEN
1. Jennifer Lambert (Team Nordic Expérience), 2h26'59'' (15th overall)
2. Laurie Flochon Joly (Team Nordic Expérience), 2'29
3. Hanna Fine (Team Vercors Isère), at 4'22
All results on latransju.com
Program :
Sunday, February 12 - Departure from Lamoura:
- The Transjurassienne 50 km - 9:30 to 10:10 am (The Transju' Marathon Skating 50 km has been merged with this event)
- The Transju' Skating 25 km (reduced to 20 km) - 12:30 pm
- The Transju' Experience Skating 20 km - 1pm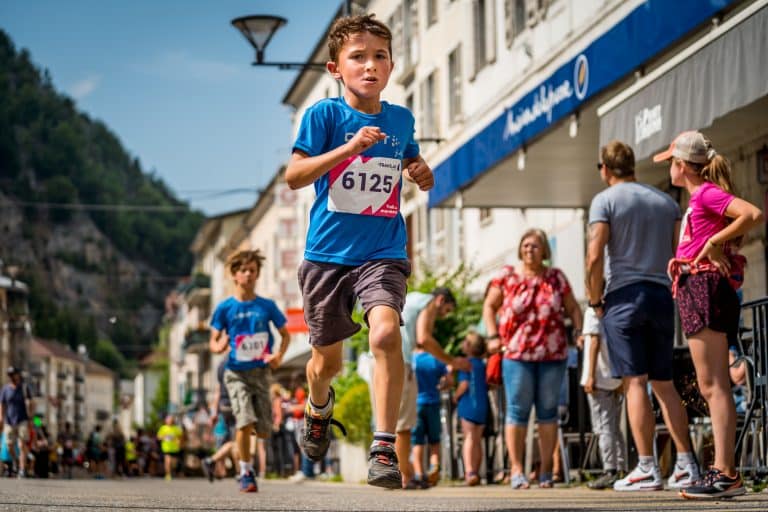 La Transju Trail
Registration for the Transju' Trail des Marmots is open. This race for children aged 7 to 13 will take place on Saturday, June 3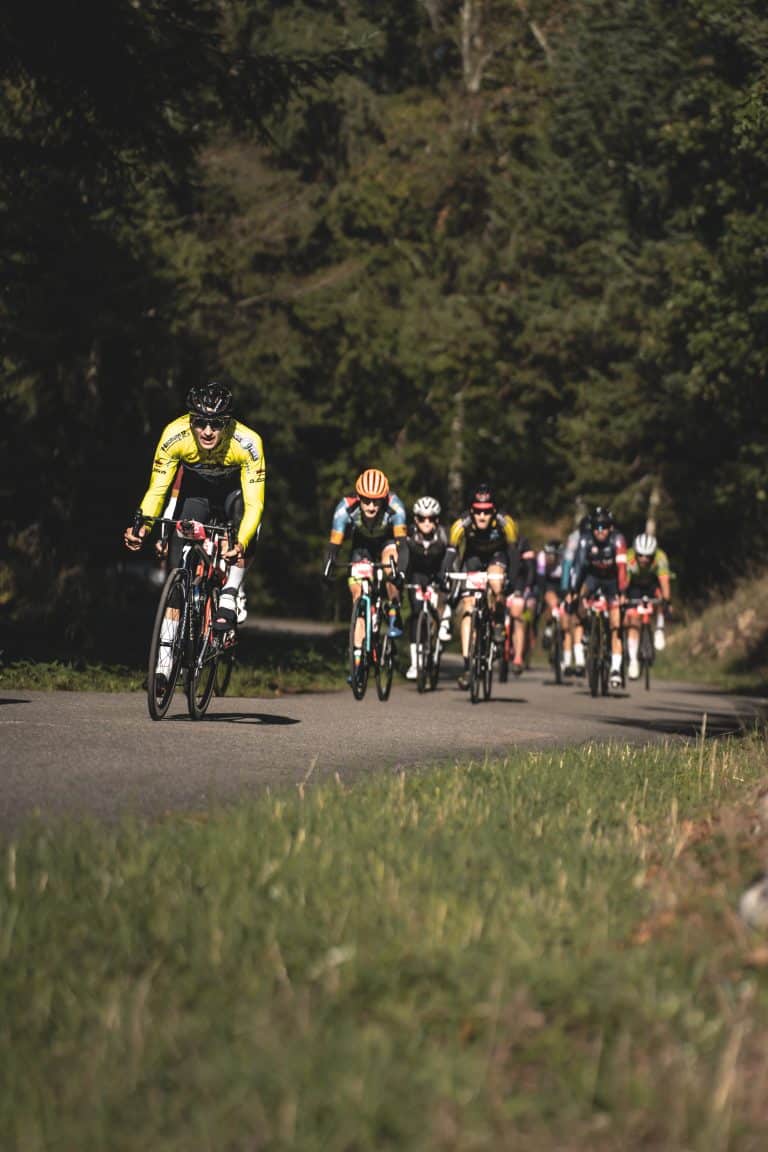 La Transju Cyclo
And here we go, La Transju' Cyclo opens its registrations for the second edition of the race which will take place on September 16 and 17, 2023 and which promises to be exceptional.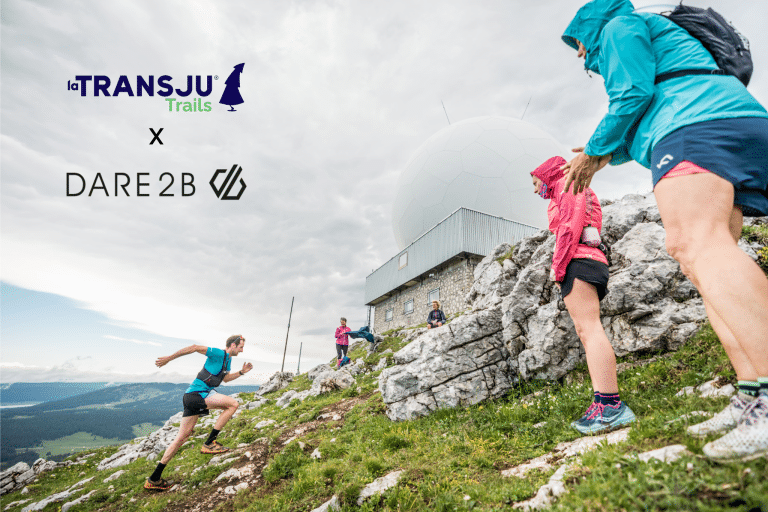 La Transju Trail
Only a few weeks left before we meet again. Join us, 6 trail and hiking events are waiting for you all weekend long.