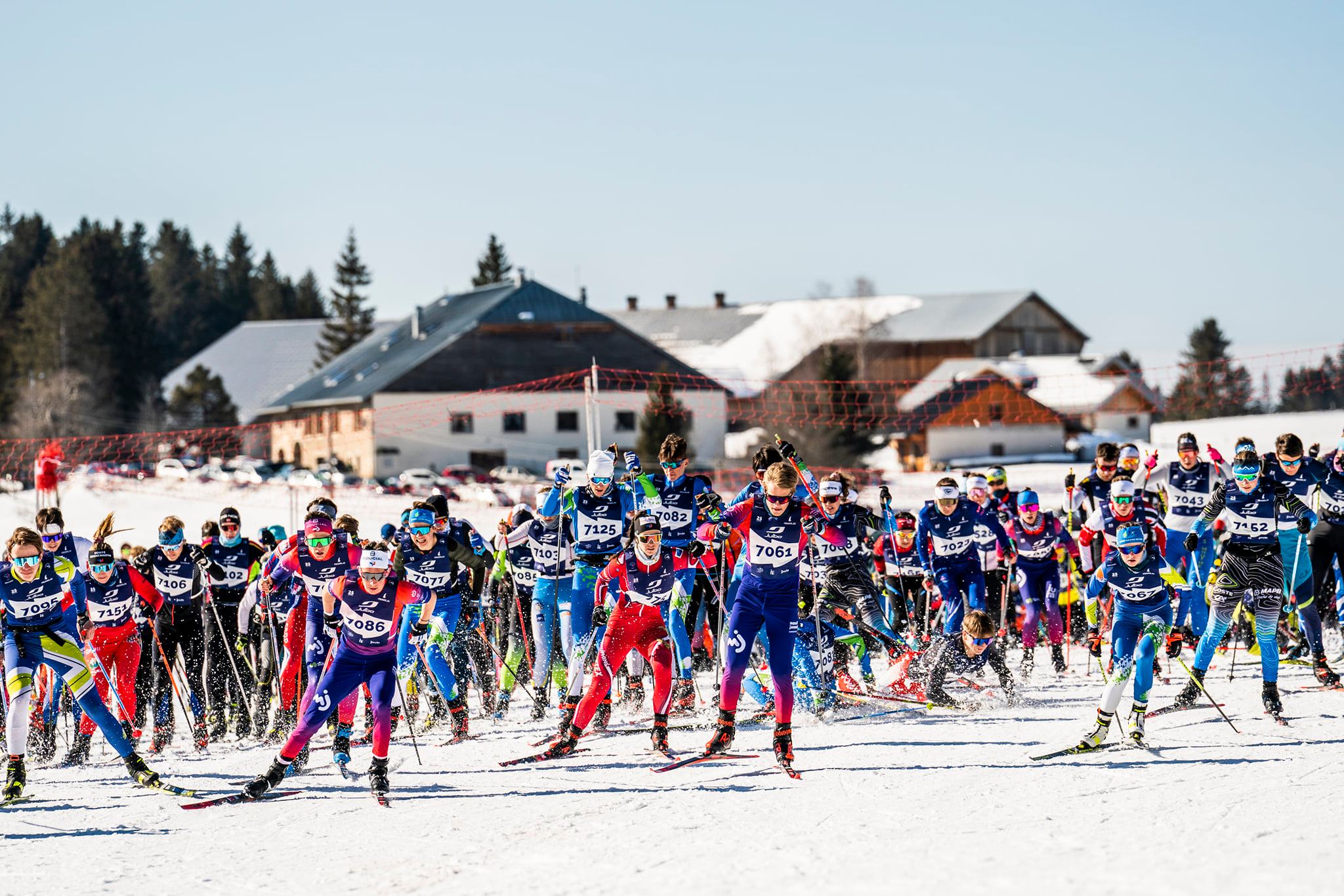 The services included in the rate:
The bib
A Transju souvenir pack
The timing chip and the timed classification
Finisher's medal at the finish for all participants
Medical assistance and security
Refreshments
The checkroom bag and its transport from the starting stadium to the finish
The closed park for skis at the finish
Technical assistance
Preparation of the tracks
Partial refund in case of cancellation by the organizer
The Transju' guide
Course of the Transju Marathon Skating 50 km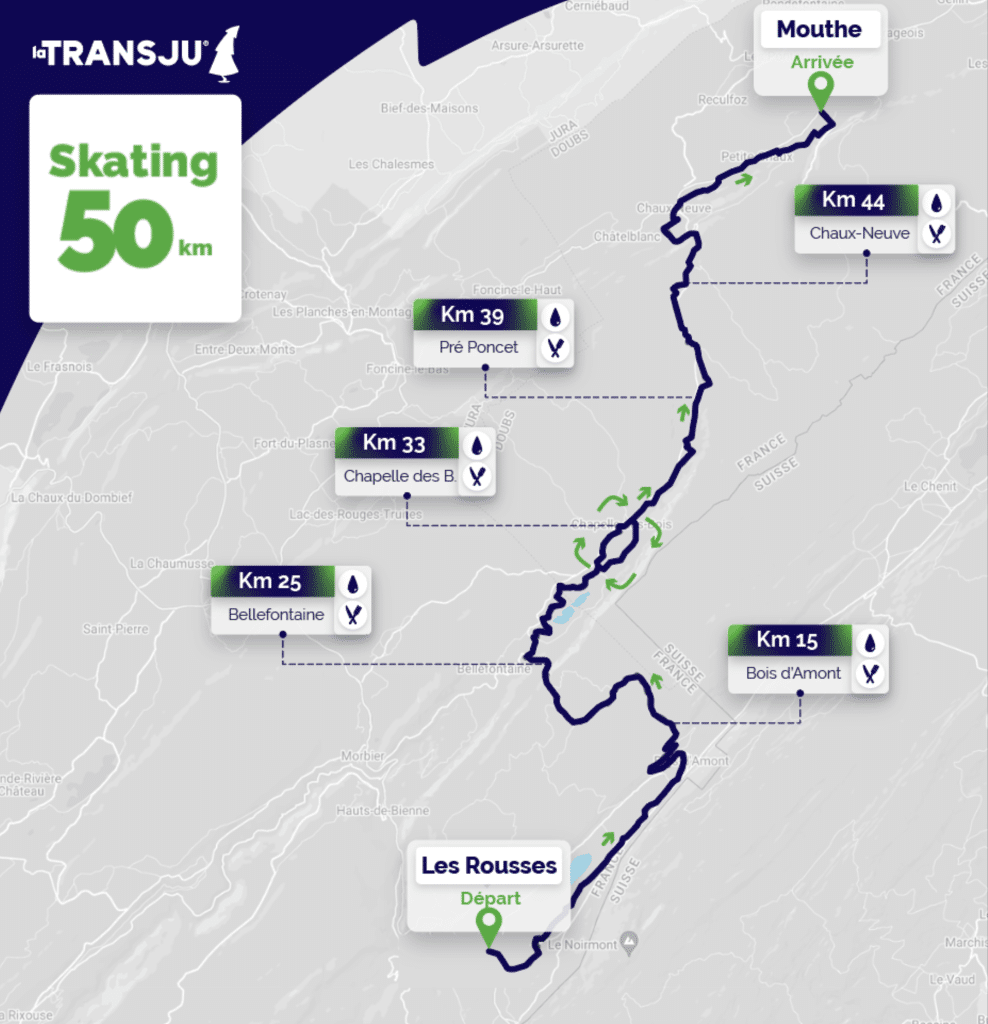 Profile of the Transju Marathon Skating 50 km

Pick up your race number envelope
At the Salon du Nordique in Les Rousses on Friday February 9th from 9am to 7pm and Saturday February 10th from 9am to 7pm.
In case of impossibility, you will be able to collect it on the morning of the race, directly at the starting point of your race (Les Rousses).
Please note! Bring your withdrawal coupon (sent by mail a few days before).
Chrono chip
You will find a timing chip in your race number envelope. Please put the chip on the bracelet and attach it to your ankle.
This chip must be returned at the finish. Any chip not returned will be charged 40€.
In case of abandonment or out of time, please bring it back at the finish line or give it to a member of the organization.
Checkroom bag
Your checkroom bag and the sticker with your race number are in your race number envelope.
Be careful! Make sure you stick your number on your bag and take it with you.
The bags must be closed and placed in the trucks parked near the start.
They will be available at the finish site, by showing your number.
Timetable for the passage of the runners
Assignment in lines or starting boxes by events
The allocation of lines is decided by the Chief of Competition according to the criteria defined in the rules.
Any request for a change of line "elite" will be treated only by the Chief of Competition who will decide on their admissibility. They must be sent by e-mail to contact@latransju.com before midnight on January 30th. It must be duly motivated and justified by the presentation of official documents corresponding to the criteria of the line choice. Without justification the request will be automatically rejected.
Getting ready for the Transju Marathon Skating 50 km
Follow our partners' advice to arrive in shape on cross-country skis on the day of La Transju :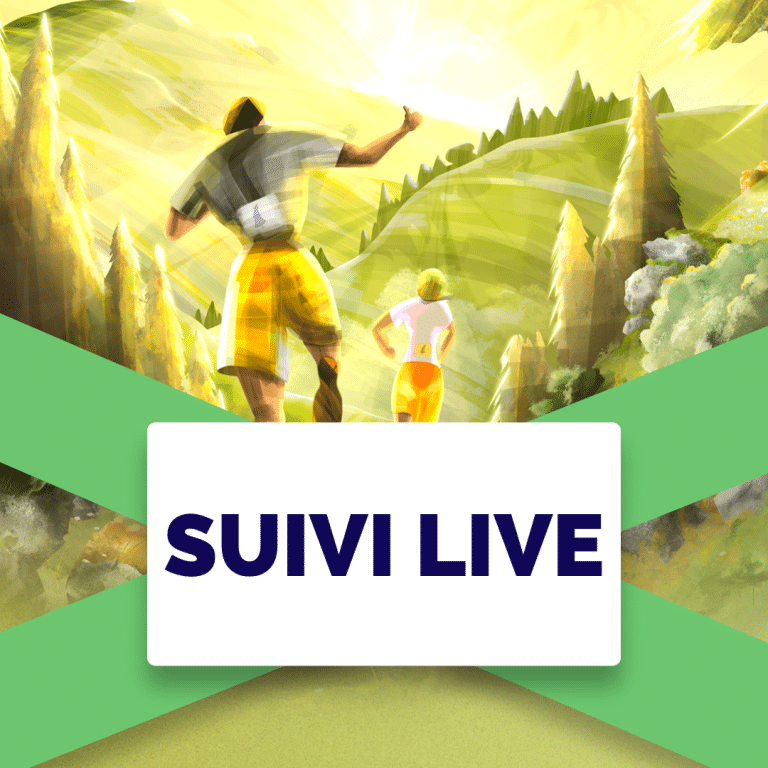 La Transju Trail
Would your supporters like to follow you live during your race? It's possible, thanks to the electronic chips supplied with your race number and the detection antennas positioned at the start stadiums, along the course and at the finish line.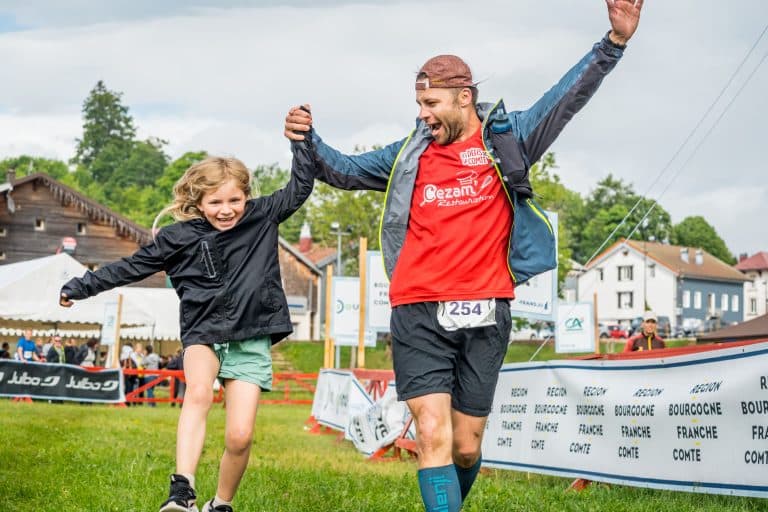 La Transju Trail
The last wave of preferential rates ends tonight, Monday May 29 at 11:59pm, so don't miss out on the best prices for an extraordinary sporting experience at La Transju' Trails on June 3 and 4, 2023.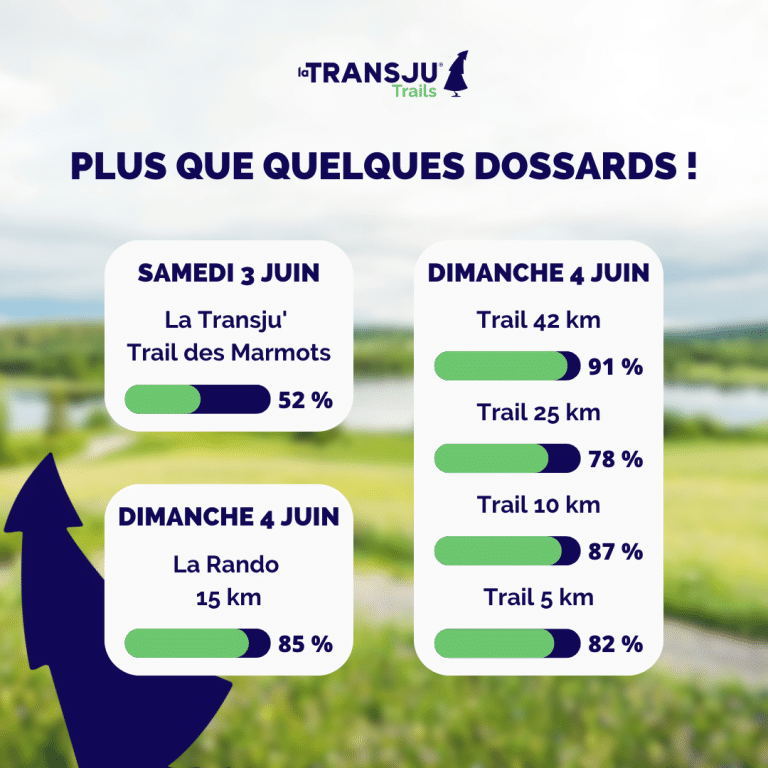 La Transju Trail
Don't waste any more time and register now to take advantage of the last remaining race numbers to take on the Jura trails and have the chance to be one of the finishers of La Transju' Trails 2023! ⛰️